Profile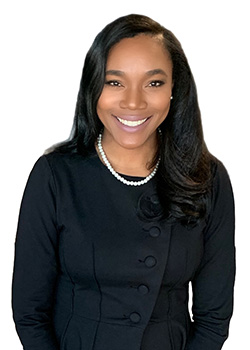 Cierra Newman
Associate
Washington, D.C.
1909 K Street, NW
4th Floor
Washington, DC 20006
Practices
Professional Experience
Cierra is an associate in the firm's Washington, D.C. office where she is a member of the Credit Reporting, Privacy, and Data Security Practice Group. Cierra advises financial institutions, consumer reporting agencies, and financial technology firms on a broad range of federal laws, including those enforced by the Consumer Financial Protection Bureau ("CFPB"), the Federal Trade Commission ("FTC"), the Office of the Comptroller of the Currency ("OCC"), and other federal agencies. Cierra's practice focuses primarily on day-to-day regulatory compliance with the Fair Credit Reporting Act, the EU's General Data Protection Regulation, Gramm-Leach-Bliley Act, and other privacy data use and protection laws.
In addition, while working in conjunction with Hudson Cook, LLP's Government Investigations, Examinations and Enforcement Practice Group, Cierra assists clients with preparing for examinations by federal prudential regulators, as well as state attorneys general.
Prior to joining Hudson Cook, Cierra served as an Attorney-Advisor for the OCC, an independent bureau of the U.S. Department of Treasury. In her capacity, she supported a wide range of legal matters within the Office of the Chief Counsel. Cierra previously served as a Law Clerk for the United States Senate Judiciary Committee where she worked as an aide for Senator Charles E. Grassley, Chairman and President Pro Tempore of the United States Senate.
Cierra received her J.D., with Honors, from the University of Iowa College of Law. She received her B.A. in Business Administration from Queens University. She is admitted to practice in Iowa and the District of Columbia.
American Bar Association, Young Lawyers Division
Women in Housing Finance
Iowa Bar Association
"Ask and You Shall Receive: CFPB Issues ANPR on Consumer-Permissioned Access to Financial Records," Hudson Cook Insights, November 2020, co-authored with Katie Hawkins
"FCRA Basics for Screeners - Distance Learning Style," Professional Background Screening Association Virtual Conference, September 2020
"FTC Brings First Enforcement Action Alleging Failure to Provide Documentation of Identity Theft to Victims," Hudson Cook Insights, June 2020, co-authored with Rebecca Kuehn
University of Iowa College of Law, J.D., with honors, 2018
Queens University, B.A. in Business Administration, 2011
Iowa, 2019
District of Columbia, 2020