Government Investigations, Examinations and Enforcement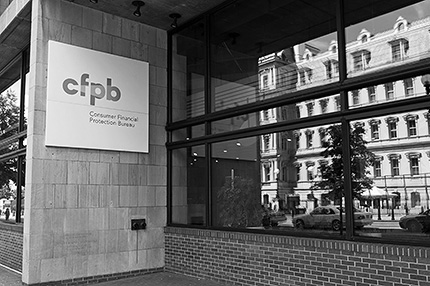 Lawyers in Hudson Cook's Government practice area provide experienced support to consumer financial services companies and others facing government scrutiny. These lawyers have, in total, decades of experience as private practitioners, in-house counsel, and counsel for federal agencies - including the Consumer Financial Protection Bureau (CFPB), Federal Trade Commission (FTC), and Office of the Comptroller of the Currency (OCC).
Investigations
Since 2012, we have represented clients in more than 50 government investigations. Our experience in consumer financial services regulation and our familiarity with state and federal regulatory agencies help us work towards efficient resolution of government actions. Representative engagements include:
a CFPB investigation of a large installment lender that was closed with no action;
a CFPB investigation regarding mortgage advertising claims that resulted in no action;
an FTC investigation involving online lead generation that was closed with no action; and
a State AG investigation of an installment lender that was closed with no action.
Enforcement
Enforcement actions arise when a supervisory or investigative matter cannot be resolved informally. We usher clients through the enforcement process, working with them through settlement negotiations, litigation and appeals, and otherwise advocating for their interests. Representative engagements include:
Defending CFPB district court litigation against an auto finance company relating to military lending practices;
Defending a mortgage company in CFPB litigation to enforce a Civil Investigative Demand;
Defending auto title companies in CFPB administrative adjudications; and
Negotiation of settlement agreements with the CFPB, FTC, DOJ, and states.
Examinations
Examinations involve an extended process that demands careful preparation, quick responses, and effective remedial action. We assist clients in preparing for exams by evaluating the organization's Compliance Management System. During exams, we help clients navigate the process with an eye toward resolving issues through the supervisory process. When regulators identify violations, we advocate for non-public resolutions through responses to CFPB PARR Letters or similar agency notices. Representative engagements include:
Drafting CFPB PARR responses for auto finance companies, small dollar lenders, and others, in some cases resulting in no public action and the elimination of supervisory findings;
Assisting banks and service providers in preparing for and responding to OCC, Federal Reserve Board, FDIC, and state prudential regulators' exams;
Assisting clients in preparing for and navigating CFPB exams; and
Crafting remediation plans and corrective actions.
Attorneys Practicing in this Area