Profile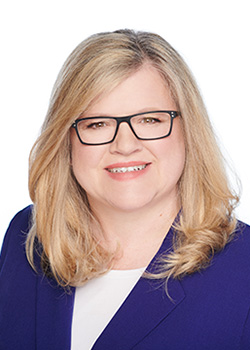 Rebecca E. Kuehn
Partner
Washington, D.C.
1909 K Street, NW
4th Floor
Washington, DC 20006
Practices
Professional Experience
Becki is a partner in the firm's Washington, DC office, where she chairs the Credit Reporting, Privacy, and Data Security Practice Group. Her practice focuses on consumer financial services and consumer protection matters. Becki counsels financial institutions, consumer reporting agencies, service providers, and others in complying with consumer financial laws and prohibitions against unfair, deceptive, or abusive trade practices. She is an experienced advocate and litigator, representing clients before federal and state agencies and the courts, particularly the Federal Trade Commission and Consumer Financial Protection Bureau, in investigations and other proceedings.
Prior to joining Hudson Cook, Becki was Vice President and Senior Regulatory Counsel for CoreLogic. She served as lead lawyer and coverage counsel for the CoreLogic credit reporting and consumer data businesses, providing advice and guidance to management on a wide variety of consumer data and privacy-related regulatory issues, including the Fair Credit Reporting Act and the Gramm-Leach-Bliley Act.
Becki was Assistant Director with the Division of Privacy and Identity Protection, Bureau of Consumer Protection, Federal Trade Commission from May 2006 to September 2011, supervising attorneys and other staff in the Division of Privacy and Identity Protection, which division oversees issues related to consumer privacy, credit reporting, identity theft, and information security. She led the Fair Credit Reporting Act program, and oversaw the Commission's enforcement, outreach, and rulemaking activities in that area. While at the FTC, Becki provided technical assistance to Egypt on oversight and regulation of credit bureaus as part of USAID mission. Becki also served on the World Bank Credit Reporting Task Force, providing significant contributions to the development of a consultative draft report entitled General Principles for Credit Reporting.
Becki was a partner with LeClair Ryan from February 2000 to May 2006. Her practice involved litigation and counseling concentrating on the representation of financial service providers, including claims brought under the Fair Credit Reporting Act, the Truth in Lending Act, and the Fair Debt Collection Practices Act.
As an associate with Reed Smith, LLP, from January 1997 to February 2000, Becki was primarily responsible for a variety of civil litigation matters, including commercial matters, software and other technology-related disputes, lender liability, and products liability actions. Prior to this, Becki was an associate with Spriggs & Hollingsworth.
Becki is a member of the American Bar Association, Section of Business Law, Consumer Financial Services Committee and is admitted to practice in Virginia, Maryland and the District of Columbia.
Becki received her law degree with honors in 1994 from The George Washington University, National Law Center and she holds a Bachelor of Arts, summa cum laude, from Frostburg University.