Profile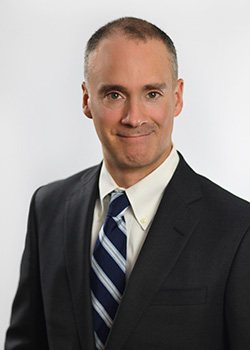 Mark E. Rooney
Partner
Washington, D.C.
1909 K Street, NW
4th Floor
Washington, DC 20006
Practices
Professional Experience
Mark is a partner in the firm's Washington, DC office. He defends debt collectors, banks, installment lenders, mortgage servicers, and other businesses facing consumer lawsuits. Mark has defended clients in litigation arising under a wide variety of state and federal consumer protection statutes including the Fair Debt Collection Practices Act (FDCPA), Telephone Consumer Protection Act (TCPA), Fair Credit Reporting Act (FCRA), state unfair and deceptive practices laws, and other consumer protection laws. Mark also assists clients facing government investigations and enforcement actions by the CFPB and other state and federal regulators. He provides compliance counseling and advice, responses to government investigations, oversight of managed review and document production, and other litigation support services.
Mark has represented numerous financial institutions in civil litigation and government investigations involving the Fair Housing Act (FHA), Equal Credit Opportunity Act (ECOA), Truth in Lending Act (TILA), and the False Claims Act (FCA), often relating to mortgage origination and servicing practices. He has extensive experience defending banks in FHA cases brought by municipalities seeking generalized damages from foreclosures and has defended against counterclaims filed in connection with foreclosures.
Mark was the founder of The Rooney Firm PLLC. Before opening his own firm, Mark represented clients in litigation and defended clients against government enforcement actions and investigations for over 10 years at two prominent consumer financial services practices in Washington, DC.
An active leader in consumer finance law, Mark has been appointed as chair of the American Bar Association's Litigation Section Consumer Litigation Committee, where he previously served as co-chair of the Subcommittee on FDCPA and TCPA litigation. He also chairs the DC Bar's Consumer Finance Litigation Committee and is an elected member of the DC Bar's Litigation Community Steering Committee. He is a member of the Mortgage Bankers Association and ACA International, where he was recently re-elected as the Attorney Division representative to the Council of Delegates.
Mark received his J.D. (magna cum laude, Order of the Coif) from the University of Miami School of Law, where he was the Senior Articles Editor of the University of Miami Law Review and a teaching assistant in constitutional law. He earned his B.A. from Syracuse University (cum laude). Before law school, he served as a press secretary on Capitol Hill for three years and as a manager of the Salt Lake 2002 Olympic Torch Relay.
Member and Attorney Division Representative to the Council of Delegates, ACA International
Member, American Bar Association (ABA), Litigation Section
Chair, ABA Litigation Section Consumer Litigation Committee
Member, ABA Committee on Consumer Finance Litigation
Co-Chair, ABA Subcommittee on FDCPA & TCPA Litigation
Member, ABA Committee on Pre-Trial Practice and Discovery
Chair, DC Bar Consumer Finance Litigation Committee
Elected Member, DC Bar Litigation Community Steering Committee
Capital Pro Bono High Honor Roll (2016, 2017, 2018)
"The Hunstein Decision: Sea Change or Business as Usual?", Hudson Cook Webinar, July 2021
"Enforcement Trends under the Biden Administration," OLA Legal Issues Conference, July 2021
"A Fresh Look at UCC Article 9 Repossession Requirements through a Litigation Lens," 2021 Virtual Financial Services Conference, May 2021
"Supreme Court's Facebook Decision Upends TCPA Litigation Landscape," ABA Section of Litigation Consumer Litigation Committee Webinar, April 2021
"Special Issues in UDAAP Enforcement," NAFCU Webinar, November 2020
"The TCPA Litigation Landscape: Novel Disputes, Ongoing Ambiguities, and Key Takeaways from Recent Case Law," ACI 32nd Annual Advanced Forum on Consumer Finance Class Actions, Litigation & Government Enforcement Actions, September 2020
"Update on Consumer Arbitration Issues," American Bar Association - Section of Litigation Roundtable, August 2020
"Seila Law and the Future of the CFPB," Hudson Cook Webinar, July 2020
"Consumer Financial Protection Challenges Amid COVID-19," American Bar Association - Section of Litigation Roundtable, June 2020
"The CFPB's Enforcement Agenda - Trends and Outlook," Lend360 Online Lending Legal and Policy Issues Forum, February 2020
"Hot Topics in TCPA Litigation," American Bar Association - Section of Litigation Roundtable, February 2020
"Consumer Rights and a look into UDAAP," CUNA Attorney's Conference, October 2019
"The Evolving Definition of an Automatic Telephone Dialing System under the TCPA," American Bar Association - Section of Litigation Roundtable, December 2018
"Facebook Decision Upends TCPA Litigation Landscape," American Bar Association Litigation Section, Vol. 20, No. 1, Summer 2021, co-authored with Michael P. Daly
"For FDCPA Litigators, New Lessons on Standing," America Bar Association Litigation Section Practice Points, March 2021
"Consumer Finance Issues Command Supreme Court's Attention in Volatile Term," Hudson Cook Insights, October 2020
"Supreme Court's Seila Law Decision Brings Clarity to the CFPB (for Now)," Non-Prime Times, July 2020
"Debt Collection Challenges Amid the Coronavirus (COVID-19)," Hudson Cook Insights, April 2020
"How to Respond to a Consumer Demand Letter," America Bar Association Litigation Section Practice Points, January 2020
"The Many Ways to Extend a Limitations Period," America Bar Association Litigation Section Practice Points, November 2019
"After Oral Argument, U.S Supreme Court Seems Poised to Preserve FDCPA SOL Status Quo, insideARM, October 2019
"CFPB's Proposed Debt Collection Rule: Perspectives from the Comment Period," insideARM, October 2019
"High Court Decision on Non-judicial Foreclosures May Have Limited Impact," Thomson Reuters Westlaw Journal of Bank & Lender Liability, April 2019
"Can the FDCPA's One-Year Statute of Limitations Be Expanded under the 'Discovery Rule'? Supreme Court Will Decide," InsideARM, February 2019
"Supreme Court Weighs Application of FDCPA to Non-judicial Foreclosures," Mortgage Bankers Association Insights, January 2019
"The Evolving Definition of an Auto-dialer under the TCPA," American Bar Association-Consumer Litigation Committee Practice Points, December 2018
"CFPB Issues Rule regarding Payday, Title, Deposit Advance, and Certain Other Installment Loans," Thomson Reuters Westlaw Journal of Bank & Lender Liability, October 2017
"Fate of Municipal-Plaintiff FHA Suits in Justices' Hands," Law360, June 2016
"Credit Information Furnishers' Duty to Investigate under FCRA," Bloomberg Law Reports-Banking & Finance, Vol. 4 No. 8, 2011
"FACTA: Will Dodd-Frank Further Expand Consumers' Control of Their Credit Data?," Consumer Financial Services Law Report, Vol. 14, Issue 18, March 2011
University of Miami School of Law, J.D., magna cum laude, Order of the Coif, 2006
Senior Articles Editor, U. of Miami Law Review
Member, Moot Court Board
Fellow, Center for Ethics & Public Service
Intern, U.S. Magistrate Judge Barry L. Garber
Syracuse University, B.A., cum laude, 1997
District of Columbia, 2008
New York, 2007
U.S. Supreme Court
U.S. Court of Appeals for the District of Columbia Circuit
U.S. Court of Appeals for the Ninth Circuit
U.S. District Court for the District of Columbia
U.S. District Court for the District of Maryland
U.S. District Court for the Northern District of Illinois
U.S. District Court for the Northern District of Indiana
U.S. District Court for the Southern District of Indiana
U.S. District Court for the Eastern District of Michigan
U.S. District Court for the Western District of Michigan