Profile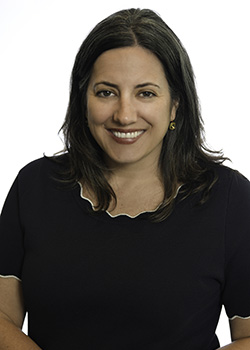 Catharine S. Andricos
Partner
Washington, D.C.
1909 K Street, NW
4th Floor
Washington, DC 20006
Practices
Professional Experience
Catharine is a partner in the firm's Washington, DC office. She assists automobile finance companies, retailers, banks, installment lenders, and other similar creditors in the development and maintenance of consumer credit programs, compliance management systems, and complaint management programs.
Catharine also counsels clients on compliance with state and federal law governing the sale and financing of voluntary protection products.
Catharine was previously an associate at Severson & Werson in San Francisco, California. She practiced civil litigation focusing on representation of financial institutions, including mortgage lenders, automobile finance companies, and loan servicers, against individual consumer and class action lawsuits involving the consumer financial services industry.
Catharine is a member of the American Bar Association's Section on Business Law. She received her law degree (cum laude) in May 2005 from The Catholic University of America, Columbus School of Law. She holds a Bachelor of History from the University of Virginia.
Member, American Bar Association, Section on Business Law
"Impact of a Pandemic on Third-Party Relationship Management," Hudson Cook Webinar, April 2020
"State of the States: AGs & CCIA Member Products," Delta Learning Series, Consumer Credit Industry Association, June 2019
"Voluntary Protection Products: State AG Enforcement," AFSA Ancillary Products Working Group Meeting, May 2019
"Voluntary Protection Products - Issues and Innovation," Consumer Financial Services Conference, Hudson Cook/CounselorLibrary, April 2019
"Consumer Complaints and the CFPB," Resident Lenders of North Carolina, March 2015
"Voluntary Protection Products: A Matter of 'Interest' for State and Federal Regulators," Hudson Cook Insights, CCIA Star, June 2021
"GAP Refunds: Same Old Song and Dance," The CCIA Star, March 2021
"Creditors Must Consider Impact of COVID-19 on Administration of Voluntary Protection Products," Hudson Cook Insights, April 2020
"COVID-19 Payment Accommodations from the Perspective of Voluntary Protection Product Providers," Hudson Cook Insights, March 2020
"State Legislators and Regulators Are Working to Fill the GAP," Spot Delivery, August 2019
"Warranty Repair Restrictions Are on the FTC's Radar," Spot Delivery, April 2019
"Words (and Texts) Matter: When "As Is" Does Not Mean "As Is," Spot Delivery, January/February 2019
"Voluntary Protection Product Refunds: The Buck Stops Where?," Hudson Cook Insights, November 2018, co-authored with L. Jean Noonan
"Attacks on Payday Lending: Ballot Initiatives, Legislation, and Attorney General Enforcement," Hudson Cook Insights, November 2018, co-authored with Dailey Wilson
"Revised Used Car Rule: The FTC Strikes Back," Spot Delivery, August 2018
"Wake Up and Review Your Warranty (Before the FTC Does)," Spot Delivery, May 2018
"Questions about the Revised Used Car Rule: Dealers Asked, the FTC Answered," Spot Delivery, October 2017
"Implied Warranty Disclaimers: When They Work and When They Don't," Hudson Cook Insights, May 2017
"South Dakota Adopts Limits on 'All-In' 36% Rate Cap," Hudson Cook Insights, March 2017
"South Dakota Voters Approve 36% Rate Cap on Money Lender Licensees," Hudson Cook Insights, November 2016
The Catholic University of America, Columbus School of Law, J.D., cum laude, May 2005
Catholic University Law Review, Staff Member 2003-04, Editorial Assistant 2004-05
University of Virginia, B.A. History, May 1998
California, 2005
District of Columbia, 2008