Profile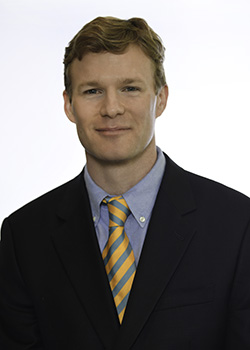 Clayton C. Swears
Partner
Maryland
7037 Ridge Road
Suite 300
Hanover, MD 21076
Practices
Professional Experience
Clay is a partner in the firm's Maryland office. He assists national and state banks, savings associations, credit unions, mortgage bankers and licensed lenders in the development and maintenance of consumer mortgage, automobile finance and other credit programs.
Prior to joining Hudson Cook, Clay was an associate at M.J. Advanced in Baltimore, Maryland where he conducted research and drafting at the investor relations firm, working with internal and external matters including revisions to the employee handbook and employee documents, construction and preparation of business plan documents, and preparation of press releases.
Clay is a member of the American Bar Association, Section of Business Law and the Maryland and District of Columbia Bar Associations.
Clay received his law degree magna cum laude, Order of the Coif, in 2006 from The University of Maryland School of Law. He holds a Bachelor of Arts summa cum laude, First Honor Graduate, in Business Management from Washington College.
Member, American Bar Association, Section on Business Law
Member, Maryland State Bar Association
Member, District of Columbia Bar
"Dealer Obligated to Perform under Third Party's Extended Service Contract," Spot Delivery, Vol. 15, Issue 7, January/February 2013
"Loan Transfer Not "By Operation of Law" for Purposes of Foreclosure Statute," Basis Points, Issue 41, December 2012/January 2013
"Security Interest in Titled Collateral Not Necessarily Perfected by Notation on Title," Spot Delivery, Vol. 15, Issue 6, December 2012
"Sloppy as a Defense to a Class Action?," Spot Delivery, Vol. 15, Issue 5, November 2012
"Arbitration Clause in Sale Contract Does Not Stop Credit Application Claim," Spot Delivery, Vol. 15, Issue 2, August 2012
"Fourth Circuit Case Finds National Bank Subject to Default Notice Requirements Under Maryland Law," Spot Delivery, Vol. 14, Issue 10, May 2012
"Ancillary Product Not Covered by Arbitration Provision in Vehicle Purchase Agreement," Spot Delivery, Vol. 14, Issue 9, April 2012
"Finance Company Liability Transfer of Motor Vehicle RISCs to Unlicensed Buyers Void," Basis Points, Issue 26, August 2011
"Transfer of Motor Vehicle Installment Contracts to Unlicensed Buyers Void," Spot Delivery, Vol. 14, Issue 1, July 2011
"Oklahoma Amends Dealer Advertising Regulations," Spot Delivery, Vol. 14, Issue 1, July 2011
"Unauthorized Practice of Law Litigation in Arkansas," Spot Delivery, Vol. 13, Issue 11, June 2011
"Negligent Entrustment Claim Involving Buyer's Driving Record Fails," Spot Delivery, Vol. 13, Issue 5, November 2010
"You Can't Park That Here - New D.C. Dealer Regulation Upheld," Spot Delivery, Vol. 13, Issue 4, October 2010
"Waive Goodbye to Strict Compliance Notices in Arkansas," Spot Delivery, Vol. 13, Issue 1, July 2010
"Delay Red Flags Compliance? Maybe Not.," Spot Delivery, Vol. 12, Issue 11, June 2010
"Magnuson-Moss Trumps FTC's Holder Rule," Spot Delivery, Vol. 12, Issue 9, April 2010
"An Arbitration Agreement and a Rabbit's Foot," Spot Delivery, Vol. 12, Issue 8, March 2010, co-authored with Thomas B. Hudson
"Adaptive Use?," Spot Delivery, Vol. 12, Issue 4, October 2009
"New Act Creates Issues for Debt Collectors in Arkansas," Basis Points, Issue 3, July 2009
"Arkansas May Yet Become a Viable Financing Environment," Spot Delivery, Vol. 11, Issue 10, May 2009
"Proposals Addressing Credit Card Lending Practices," Lexis Nexis Emerging Issues, July 2008
"Say Goodbye to 'AS-IS' Sales in Pennsylvania if Bill Passes," Spot Delivery, Vol. 10, Issue 5, November 2007, co-authored with Aline C. Ryan
"Small Claims Can Cost You," Spot Delivery, Vol. 10, Issue 2, August 2007, co-authored with Thomas B. Hudson
The University of Maryland School of Law, J.D., magna cum laude, Order of the Coif, May 2006
Washington College, summa cum laude, First Honor Graduate, B.A. in Business Management, May 2003
District of Columbia, 2010
Maryland, 2006