Profile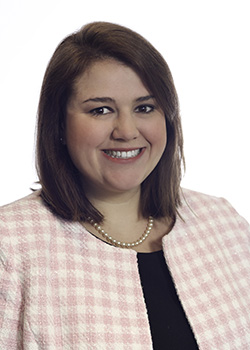 K. Dailey Wilson
Partner
Tennessee
9431 Bradmore Lane
Suite 201
Ooltewah, TN 37363
Practices
Professional Experience
Dailey is a partner in the firm's Tennessee office. She focuses her practice on federal and state regulatory compliance for rent-to-own providers and other alternative financial services providers. Dailey frequently assists clients with drafting consumer-facing documentation, developing internal policies and procedures, and completing audits for compliance with state and federal law.
Dailey advises various financial institutions and others on compliance with data use and security laws, including the Safeguards Rule. Dailey works closely with clients to develop data security compliance strategies, including in connection with risk assessments, information security programs, written incident response plans, vendor management, and due diligence matters.
Dailey serves on the Alumnae Council for Girls Preparatory School in Chattanooga, TN.
Dailey received her law degree cum laude in 2012 from the University of Georgia School of Law. She holds a Bachelor of Arts magna cum laude in History from the College of Charleston.
She is admitted to practice in Georgia and Tennessee and is a member of the American Bar Association.
Member, American Bar Association
Member, Georgia Bankers Association, Bank Counsel Section
Member, Alumnae Council, Girls Preparatory School
"Financial Services Law I," AFSA Education Foundation: THE EDGE, June 2022
"Safeguards Rule Roundtable," ADCO Webinar, February 2022
"FTC Expands Safeguards Rule to Address Cybersecurity Risks & Privacy," CDIA Webinar, December 2021
"Financial Services Law I," AFSA's THE EDGE, September 2021
"Serving consumers with limited English proficiency (LEP)," Hudson Cook Compliance Coffee Break, June 2021
"Serving Limited English Proficiency (LEP) Customers: What CFPB's New LEP Guidelines Mean for Your Company," OLA Compliance University, May 2021
"Financial Services Law I," AFSA's THE EDGE, June 2019
"Accommodating vulnerable consumers: dissecting complex legal issues regarding the accessibility of financial products and services," Consumer Financial Services Conference, Hudson Cook/CounselorLibrary, April 2019
"Update on small dollar lending and alternative financial services," Consumer Financial Services Conference, Hudson Cook/CounselorLibrary, April 2019
"Connecticut Governor Signs Nation's Fifth Comprehensive Consumer Data Privacy Law," Business Law Today, June 2022
"Breaking Down the FTC's Hard-Press Against CafePress: Five Takeaways from the Recent FTC Action," Hudson Cook Insights, April 2022, co-authored with Francis Conlon
"The FTC's Sweeping Changes to the Safeguards Rule - Time to Reexamine Your Information Security Program," Tennessee Dealer News, Winter 2022
"Is it time to 'tune up' your compliance with the Fair Credit Reporting Act ("FCRA")?" Tennessee Dealer News, Fall 2021, co-authored with Ronald D. Gorsline
"Colorado Governor Signs Nation's Third Comprehensive Consumer Data Privacy Law," Hudson Cook Insights, August 2021, co-authored with Webb McArthur
"Equality in Credit Decisions - "Sex" DOES include Sexual Orientation and Gender Identity," Tennessee Dealer News, Spring 2021, co-authored with Erica A.N. Kramer
"Tik Tok: The Compliance Clock Is Ticking for Small-Dollar Lenders in 2020," The Business Lawyer; Vol. 76, Spring 2021, co-authored with Justin B. Hosie, Erica A.N. Kramer, Andrea S. Cottrell, Christopher J. Capurso and Hurshell K. Brown
"FTC Staff Report on Buying and Financing Cars: Part II," Tennessee Dealer News, Winter 2021, co-authored with Ronald D. Gorsline
"FTC Staff Report on Buying and Financing Cars: Part I," Tennessee Dealer News, Fall 2020, co-authored with Ronald D. Gorsline
"It's the Final Countdown: The Small Dollar Rule's Looming Compliance Date," Hudson Cook Insights, September 2020
"Is Your Ad Clear and Conspicuous? Apparently it Depends.," Tennessee Dealer News, Summer 2020, co-authored with Ronald D. Gorsline
"Equality in Credit Decisions - Does 'Sex' include Sexual Orientation and Gender Identity?" Hudson Cook Insights, July 2020, co-authored with Erica A.N. Kramer
"Small Dollar Lending Regulation in 2019," The Business Lawyer; Vol. 75, Spring 2020, co-authored with Justin B. Hosie, Erica A.N. Kramer, and Christopher J. Capurso
"Are you repossessing responsibly?," Tennessee Dealer News, Nov/Dec 2019, co-authored with Ronald D. Gorsline
"FTC's Rules of the Road for Advertising: A Five-Point Inspection," Spot Delivery, September 2019, co-authored with Erica A.N. Kramer
"Does Your Credit Application Need a Tune-Up?", Tennessee Dealer News, Spring 2019, co-authored with Ronald D. Gorsline
"The Walking Dead: 2018 Small Dollar Lending Updates - Is the Small Dollar Loan Industry Mostly Dead or Slightly Alive?", 74 Bus. Law 553, Spring 2019, co-authored with Justin B. Hosie, Erica A.N. Kramer and Andrea S. Cottrell
"How Artful Drafting and Good Compliance Practices Can Save Contracts from an Untimely Death," Hudson Cook Insights, December 2018, co-authored with Blake Sims
"Attacks on Payday Lending: Ballot Initiatives, Legislation, and Attorney General Enforcement," Hudson Cook Insights, November 2018, co-authored with Catharine Andricos
"Choice-of-Law Clauses in Online Loans with Consumers," 24 No. 11 Westlaw Journal Bank and Lender Liability 01, October 2018, co-authored with Justin B. Hosie
"Stranger Things: Small-Dollar Lending Updates and the Arrival of a Final Rule," The Business Lawyer, Spring 2018, co-authored with Justin B. Hosie and Erica A.N. Kramer
"2016 Small-Dollar Lending Update: An Obituary or a Re-Awakening," The Business Lawyer, Spring 2017, co-authored with Catherine M. Brennan, Justin B. Hosie and Erica A.N. Kramer
"Death by a Thousand Cuts: Update on Small-Dollar Lending," 71 Bus. Law 741. Spring 2016, co-authored with Catherine M. Brennan, Justin B. Hosie and Erica A.N. Kramer
"Grokster and Beyond: Secondary Liability for Copyright Infringement During Live Musical Performances,"Journal of Intellectual Property Law, 19 J. Intell. Prop. L. 173, 2011
University of Georgia School of Law, J.D., cum laude, May 2012
College of Charleston, B.A. in History, magna cum laude, May 2009
Georgia, 2012
Tennessee, 2014