Profile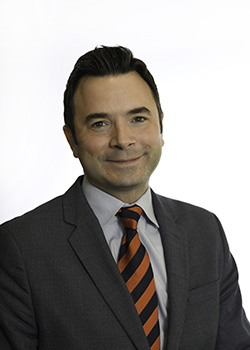 Frank Bishop, Jr.
Partner
Maine
22 Free Street
Suite 205
Portland, ME 04101
Practices
Professional Experience
Frank is a partner in the Portland, Maine office. Frank practices in three distinct areas. First, he assists all types of clients in complying with state and federal consumer financial protection laws related to retail installment sales contracts, secured and unsecured loans and lines of credit, residential mortgages and home equity loans, auto leases, etc., with a focus on compliance with the state uniform consumer credit code ("UCCC"). Frank also assists all types of clients in complying with state and federal law related to business-purpose finance products. Finally, Frank assists financial institutions in complying with state and federal law governing consumer and commercial purpose deposit products.
Previously Frank was an associate of Pierce Atwood, LLP's Business and Banking & Financial Services practice group.
Frank is an elected member of the Maine State Bar Board of Governors and is on the Board of the Maine School of Law Foundation. He is a member of the American Bar Association's Business Law Section, a member of the Maine Bar Association's Consumer and Financial Institutions Law Section, and is admitted to practice in Maine, Massachusetts and New Hampshire.
Frank received his law degree (cum laude) in 2007 from the Maine School of Law. Frank holds a Master of Arts degree in English from the University of Maine and a Bachelor of Arts degree in Philosophy from Colgate University.
Board of Governors, Maine State Bar Association, 2012 to present
Board of Directors, Maine School of Law Foundation, 2014 to present
Member, American Bar Association, Business Law Section, Consumer Financial Services Committee
Member, Maine Bar Association, Consumer and Financial Institutions Law Section
"Open-End Credit Disclosures," Chapter 7, 2013 updates, Truth-in-Lending, American Bar Association, edited by Alvin C. Harrell
"Summary of the Consumer Financial Protection Act of 2010," Chapter 16, Truth-in-Lending, American Bar Association, edited by Alvin C. Harrell
"Summary of the Consumer Financial Protection Act of 2010," Conference on Consumer Finance Law Quarterly Report, Winter 2010
Maine School of Law, J.D., cum laude, May 2007
University of Maine, M.A., English, December 2001
Colgate University, B.A., Philosophy, May 1997
Maine, 2007
Massachusetts, 2008
New Hampshire, 2015