Profile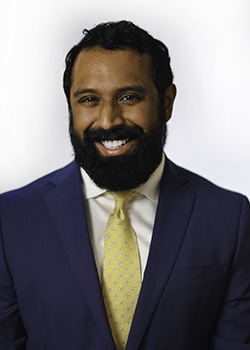 Latif Zaman
Associate
Maryland
7037 Ridge Road
Suite 300
Hanover, MD 21076
Practices
Professional Experience
Latif is an associate in the firm's Maryland office. He assists consumer financial services clients on various federal and state regulatory compliance matters. On behalf of investor clients, Latif assists with due diligence of credit and alternative finance programs. Latif also advises clients on regulatory issues related to bank partnerships and litigation funding programs. He also advises lenders on choice of law issues.
Prior to joining Hudson Cook, Latif was a Law Fellow and Intern for the New York State Department of Financial Services.
Latif received his law degree in 2010 from the University of Virginia School of Law. He holds a Bachelor of Arts in English from Skidmore College.
Latif is a member of the New York State Bar, the Maryland State Bar and the Massachusetts State Bar.
Young Lawyer Liaison, Federal and State Trade Practices Sub-committee, Consumer Financial Services Committee, American Bar Association
"Consumer Litigation Funding in the Wake of COVID-19," Hudson Cook Webinar, May 2020
"Litigation Trends in Fintech," CCFL Annual Consumer Financial Services Conference," November 2019
"Enforceability of Choice of Law Provisions in Credit Agreements," ABA Business Law Section Consumer Financial Services Committee, January 2019
"Growth of Litigation Funding in the Wake of COVID-19," Hudson Cook Insights, April 2020
"New York DFS and Other Regulators Launch Investigation into Payroll Advance Industry," Hudson Cook Insights, September 2019
"States' Divergent Approaches to Unfair, Deceptive, and Abusive Acts and Practices Reveal Consumer Protection Priorities," Hudson Cook Insights, August 2019, co-authored with Allen Denson
"True Lender Developments: Litigation and State Regulatory Actions," Hudson Cook Insights, June 2019, co-authored with Catherine Brennan
"Arbitration Clause in Vehicle Retail Installment Contract Applies to Buyers' Defamation Claim Against Salesperson," Hudson Cook Insights, February 2019
"New Fintech Legislation: Madden and True Lender Bill," Business Law Today, American Bar Association, March 2018, co-authored with Catherine Brennan
"Online Lending Under Review in New York State," Hudson Cook Insights, February 2018
"Bills Introduced to Senate and House Aim to Defeat Madden v. Midland," Hudson Cook Insights, August 2017
"New York Court of Appeals to Consider Scope of Law Prohibiting Discrimination Based on a Criminal Conviction," Hudson Cook Insights, May 2017, co-authored with Rebecca E. Kuehn
"Odometer Law: No Privity? No Problem!" Spot Delivery, August 2016
"CFPB Provides Guidance on RESPA Compliance and Marketing Services Agreements," Basis Points, October 2015
"Using Academic Factors to Reach the Invisible Borrowers: Could It Run Afoul of ECOA?" Business Law Today, American Bar Association, September 2015, co-authored with Katie Hawkins
"Application of Kentucky Mortgage Recording Requirements to Promissory Note Transfers," Basis Points, August 2015
"Customary Practice and Mortgage Recording in Kentucky," Basis Points, May 2015
"New York Attorney Settles with Three National Credit Reporting Agencies to Reform Industry," Basis Points, March 2015
"Equal Credit Opportunity Act: Consent Order Applies Extensive Restrictions to North Carolina Dealers," Spot Delivery, March 2015
"State Notice Requirements and Constitutional Due Process," Basis Points, February 2015
"State Regulation: New Jersey Regulator Cracks Down on High-End Dealership," Spot Delivery, November 2014
"Government Entities as Aggrieved in Convoluted Mortgage Lending Process," Basis Points, August 2013
"Vicarious Liability for Violations of Telephone Solicitation Laws," Basis Points, June 2013
"Marketing: Vicarious Liability for Violations of Telephone Solicitation Laws," Spot Delivery, June 2013
"Application of Arbitration Clauses," Basis Points, May 2013
"Warranty Law: Privity Not Required Between Consumers and Manufacturers or Distributors for Breach of Warranty Claim," Spot Delivery, April 2013
"Good Faith Mediation," Basis Points, March 2013
"'Safe Harbor' Forms," Basis Points, March 2013
"Legal Compliance: "Safe Harbor" Forms," Spot Delivery, March 2013
"Showing of Inequity," Basis Points, February 2013
"Is an unlicensed broker responsible for a mortgage falling into foreclosure?" Basis Points, November 2012
"Advertising: Huffing and Puffing," Spot Delivery, November 2012
"Repossession: At What Point is a Repossession a Done Deal?" Spot Delivery, October 2012
"Arbitration: Arbitration Remains in the Spotlight - Even Outside of the Ninth Circuit," Spot Delivery, June 2012, co-authored with Nicole F. Munro
"State Legislation: Kentucky Amends its Motor Vehicle Retail Installment Sales Act," Spot Delivery, June 2012, co-authored with Aline C. Ryan
University of Virginia School of Law, J.D., 2010
Skidmore College, B.A., English, 2003
2003 English Department Awards: Received annual award for excellence in creative writing
Maryland, 2016
Massachusetts, 2010
New York, 2011