Profile
Nicole F. Munro
Partner
Maryland
7037 Ridge Road
Suite 300
Hanover, MD 21076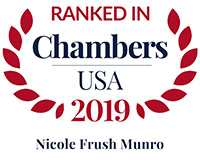 Practices
Professional Experience
Nikki is a partner in the firm's Maryland office and Editor in Chief of CounselorLibrary.com's CARLAW publication. She counsels financial services providers on compliance with consumer financial services laws, including unfair, deceptive, and abusive acts or practices, as well as the investigations, rulemakings, and proceedings of the Consumer Financial Protection Bureau and the Federal Trade Commission.
She also assists national and state banks, credit unions, and other licensed lenders, sales finance companies, and motor vehicles dealers in the development and maintenance of nationwide consumer automobile finance programs; online motor vehicle sales assistance programs; electronic payment programs. Nikki assists DMS providers of documents and software with federal and state law compliance; provides responses to regulator examinations; provides comments on proposed statutes and regulations to legislators and regulators. She consults on litigation. Nikki lectures and writes articles on consumer credit issues, including TILA, ESIGN, credit discrimination, payment assurance technology, and state consumer credit laws.
Nikki is a Fellow of the American College of Consumer Financial Services Lawyers. She serves on the Nominating Committee for the Board of Regents.
Nikki is very actively involved in the American Bar Association's Business Law Section and the Consumer Financial Services Committee and was the Chair of this Committee from 2012 to 2015.
Nikki is on the Governing Committee of the Conference on Consumer Finance Law.
Nikki is a member of a number of trade associations, including National Association of Dealer Counsel; American Financial Services Association State Government Affairs, Vehicle Finance Subcommittee; and Women's Leadership Council.
Nikki received her law degree in 2000 from the University of Maryland School of Law. She holds a Bachelor of Arts in Psychology from the University of Maryland at College Park.