Profile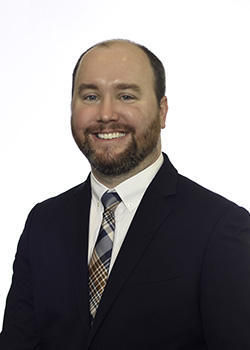 Webb McArthur
Associate
Washington, D.C.
1909 K Street, NW
4th Floor
Washington, DC 20006
Practices
Professional Experience
Webb is an associate in the firm's Washington, DC office. He advises federal and state chartered depository institutions, mortgage bankers, finance companies and licensed lenders in the development and maintenance of consumer mortgage, automobile finance and other credit programs. He also advises consumer reporting agencies, background screeners, furnishers, service providers, and others on compliance with the General Data Protection Regulation (GDPR), California Consumer Privacy Act, Fair Credit Reporting Act and other data protection and privacy laws.
Prior to joining Hudson Cook, Webb was a Financial Research Assistant with the Virginia Department of the Treasury where he also supported a program overhaul of the Virginia Security for Public Deposits Act.
Webb received his J.D., cum laude, from the University of Richmond School of Law where he was Editor-in-Chief of the Richmond Journal of Global Law and Business, Volume 9. He is a member of the American Bar Association, Business Law Section, Consumer Financial Services Committee and the Virginia Bar Association. He is admitted to practice in Maryland, Virginia and the District of Columbia.
American Bar Association, Business Law Section, Consumer Financial Services Committee
Maryland State Bar Association
District of Columbia Bar
Virginia Bar Association
"The New California Consumer Privacy Act: What Auto Dealers Need to Know," KPA Webinar, November 2019
"GDPR and the Rise of Heightened Privacy Regulations," National Association of Federally-Insured Credit Unions (NAFCU) Regulatory Compliance Seminar, October 2018
"The GDPR: How Does It Affect Your U.S. Business?" National Automobile Dealers Association (NADA) webinar, June 2018
"GDPR and the Consumer: Complying with the Consumer-Facing Requirements of the GDPR," Consumer Financial Services Conference, Hudson Cook/CounselorLibrary, April 2018
"The Changing Landscape of Tenant Screening Laws," National Association of Professional Background Screeners Mid-Year Legislative & Regulatory Conference, April 2018
"Notices, Notices, Notices: A Comprehensive Look at Adverse Action, Risk-Based Pricing, and Credit Score Notices for Credit and Non-Credit Transactions," Consumer Financial Services Conference, Hudson Cook/CounselorLibrary, April 2017
"Borders, Branches, and Behavior: Dispelling Myths about Scope of General Data Protection Regulation," Hudson Cook Insights, May 2018
"Seattle's Fair Chance Housing Ordinance: A New Wave of Tenant Screening Regulation?," NAPBS Journal, March/April 2018
"Recent FTC Suit Highlights Alleged Deceptive Practices in Negative Option Plans," Hudson Cook Insights, October 2017
"Tailored to Suit: Drafting a Client's Compliance Management System," ABA Consumer Financial Services Committee Newsletter, March 2016
"Bitcoin Mining and BSA Administrator Status," Basis Points, Issue 57, June 2014
"The New TCPA Consent Standard and Retroactive Application," Basis Points, Issue 51, November 2013
Comment, "Reforming Fairness: The Need for Legal Pragmatism in the WTO Dispute Resolution Process," 9 Rich. J. Global Law & Bus. 229, 2010
University of Richmond School of Law, J.D., cum laude, 2010
Editor-in-Chief, Richmond Journal of Global Law and Business, Volume 9
Furman University, B.S., Political Science and Philosophy, cum laude, 2007
District of Columbia, 2018
Maryland, 2016
Virginia, 2010