Profile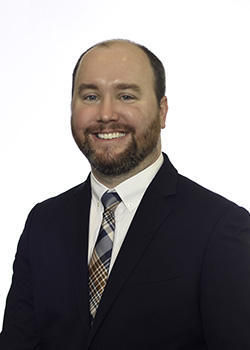 Webb McArthur
Associate
Washington, D.C.
1909 K Street, NW
4th Floor
Washington, DC 20006
Practices
Professional Experience
Webb is an associate in the firm's Washington, DC office. Webb's practice primarily involves advising financial institutions, consumer reporting agencies, background screeners, technology and information companies, service providers, and others on compliance with the Fair Credit Reporting Act, California Consumer Privacy Act, General Data Protection Regulation, Gramm-Leach-Bliley Act, and other privacy and data use and protection laws. He also advises financial institutions, service providers, and others in the development and maintenance of consumer mortgage, automobile finance, and other credit programs.
Prior to joining Hudson Cook, Webb was a Financial Research Assistant with the Virginia Department of the Treasury where he also supported a program overhaul of the Virginia Security for Public Deposits Act.
Webb received his J.D., cum laude, from the University of Richmond School of Law where he was Editor-in-Chief of the Richmond Journal of Global Law and Business, Volume 9. He is a member of the American Bar Association, Business Law Section, Consumer Financial Services Committee and the Virginia Bar Association. He is admitted to practice in Maryland, Virginia and the District of Columbia.
American Bar Association, Business Law Section, Consumer Financial Services Committee
Maryland State Bar Association
District of Columbia Bar
Virginia Bar Association
"Employment/Income/Asset Verification: New Trends in Underwriting," 2021 Virtual Financial Services Conference, May 2021
"VCDPA - The newest consumer data privacy law comes to Virginia," Hudson Cook Compliance Coffee Break, April 2021
"Web Content Accessibility - The CCPA and Beyond," Hudson Cook Webinar, May 2020
"CCPA Compliance Checkup - Are You Ready for July 1?," Hudson Cook Compliance Coffee Break, May 2020
"The New California Consumer Privacy Act: What Auto Dealers Need to Know," KPA Webinar, November 2019
"Privacy in the New World: Post-GDPR Privacy Developments in the United States," Consumer Financial Services Conference, Hudson Cook/CounselorLibrary, 2019
"Top 10 Tips for Data Governance: Managing Risk by Managing Your Data Assets," Consumer Financial Services Conference, Hudson Cook/CounselorLibrary, 2019
"The Use of Criminal Record Information in Tenant Screening," National Association of Professional Background Screeners Mid-Year Legislative & Regulatory Conference, 2019
"GDPR and the Rise of Heightened Privacy Regulations," National Association of Federally-Insured Credit Unions (NAFCU) Regulatory Compliance Seminar, October 2018
"The GDPR: How Does It Affect Your U.S. Business?" National Automobile Dealers Association (NADA) webinar, June 2018
"GDPR and the Consumer: Complying with the Consumer-Facing Requirements of the GDPR," Consumer Financial Services Conference, Hudson Cook/CounselorLibrary, April 2018
"The Changing Landscape of Tenant Screening Laws," National Association of Professional Background Screeners Mid-Year Legislative & Regulatory Conference, April 2018
"Notices, Notices, Notices: A Comprehensive Look at Adverse Action, Risk-Based Pricing, and Credit Score Notices for Credit and Non-Credit Transactions," Consumer Financial Services Conference, Hudson Cook/CounselorLibrary, April 2017
"California Attorney General Focuses on Targeted Advertising and Disclosures in CCPA Enforcement," Hudson Cook Insights, September 2021, co-authored with Megan Nicholls
"Colorado Governor Signs Nation's Third Comprehensive Consumer Data Privacy Law," Hudson Cook Insights, August 2021, co-authored with Dailey Wilson
"Smile! You May Be on a Dashboard Cam," Hudson Cook Insights, July 2021
"California Attorney General Proposes New Changes to CCPA Regulations," ABA Business Law Today Month-in-Brief, October 2020
"CCPA Regulations Approved by California Office of Administrative Law and Become Enforceable Immediately," ABA Business Law Today Month-in-Brief, August 2020
"California Attorney General Releases Second Set of Revisions to Proposed CCPA Regulations," ABA Business Law Today Month-in-Brief, March 2020
"California Data Broker List Comes Online," Hudson Cook Insights, January 2020
"CCPA Advent: Waiting on the World to Change," Hudson Cook Insights, December 2019
"Springing Consumer Rights: Responding to the Federal Government Shutdown and Anticipating Another," Hudson Cook Insights, March 2019
"Borders, Branches, and Behavior: Dispelling Myths about Scope of General Data Protection Regulation," Hudson Cook Insights, May 2018
"Seattle's Fair Chance Housing Ordinance: A New Wave of Tenant Screening Regulation?," NAPBS Journal, March/April 2018
"Recent FTC Suit Highlights Alleged Deceptive Practices in Negative Option Plans," Hudson Cook Insights, October 2017
"Tailored to Suit: Drafting a Client's Compliance Management System," ABA Consumer Financial Services Committee Newsletter, March 2016
"Eleventh Circuit Upholds City of Miami's Fair Housing Act Claims," Basis Points, 2015
"FinCEN/OCC BSA Enforcement Effort Targets Bank's Failure to File Suspicious Activity Reports," Basis Points, 2015
CFPB to Supervise Nonbank International Money Transfer Providers, Basis Points, 2014
"Bitcoin Mining and BSA Administrator Status," Basis Points, Issue 57, June 2014
"The New TCPA Consent Standard and Retroactive Application," Basis Points, Issue 51, November 2013
Comment, "Reforming Fairness: The Need for Legal Pragmatism in the WTO Dispute Resolution Process," 9 Rich. J. Global Law & Bus. 229, 2010
University of Richmond School of Law, J.D., cum laude, 2010
Editor-in-Chief, Richmond Journal of Global Law and Business, Volume 9
Furman University, B.S., Political Science and Philosophy, cum laude, 2007
District of Columbia, 2018
Maryland, 2016
Virginia, 2010